The Nutrition Month Malaysia programme (NMM) was founded in 2002 and is spearheaded by three leading professional bodies, namely the Nutrition Society of Malaysia (NSM), the Malaysian Dietitians' Association (MDA) and the Malaysian Society of Body Composition (MSBC). As the country's premier nutrition education initiative, the NMM programme receives support from the Nutrition Division of the Ministry of Health Malaysia (MOH).
NMM is a non-profit programme that focuses on promoting healthy lifestyle and is spearheaded by a National Steering Committee (NSC) with representatives from the three professional founding bodies and the Ministry of Health.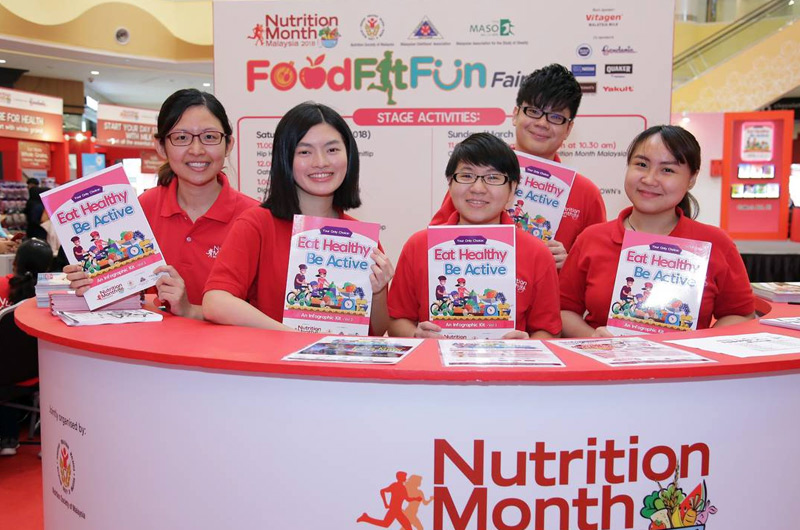 In line with the Government's healthy lifestyle programme, NMM strives to promote greater awareness on healthy eating and active living by disseminating unbiased and practical nutrition information to the nation. The programme is an ideal complement to the Ministry of Health's efforts in preventing chronic diet-related diseases such as obesity, heart diseases, and diabetes.
Every year, we focus on different themes but our goal remains the same – to create greater awareness of the importance of a healthy lifestyle. The NMM programme hopes to empower more Malaysians to practise healthy eating and active living, as well as reduce the prevalence of chronic diet-related diseases (non-communicable diseases, or NCDs), amongst the nation.
This annual initiative is observed every April with a different theme.
2023: Practise Healthy Nutrition: The Way to Wellness Throughout Life 
2022: Fight COVID-19 & NCDs with Healthy Nutrition 
2021: Nutrition – The Key to Combating Health Threats 
2020: Invest in Healthy Nutrition: Eat Right, Get Moving! 
2019: Make Time for Healthy Eating & Active Living (HE-AL)
2018: Your Only Choice: Eat Healthy & Be Active
2017: Eat Smart + Move More = Recipe for Healthy Families
2016: Eat Smart, Get Fit & Feel Great
2015: Eat Right, Move More, Prevent Diabetes from Young
2014: Eat Right, Move More: Fight Obesity
2013: Eat Right, Be Active: Stay Free from Diet Related Diseases
2012: Let's Create Healthier Families 
2011: Let's Create Healthier Families
2010: Let's Create Healthier Families
2009: Healthy Children, Healthier Nation (pre-school)
2008: Eat Right, Enjoy Life
2007: Adolescents and Nutrition
2006: Women and Nutrition
2005: Youth and Nutrition : Future of the Nation
2004: Eat Right, Work Well
2003: Healthy Eating, Healthy Life
2002: Building Healthy Families