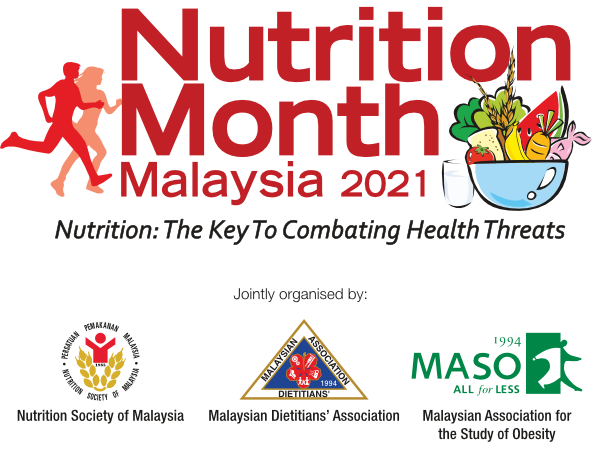 Nutrition Month Malaysia 2021
Nutrition: The Key to Combating Health Threats
The on-going COVID-19 global crisis has highlighted the importance of good nutrition and healthy lifestyle as the key to strengthening immunity so as to combat the pandemic. It is even more important now for the vulnerable groups and people with underlying medical problems (e.g. NCDs and their risk factors) to pay attention to their health and nutrition.
Eating a balanced diet, maintaining healthy bodyweight and being active as per the recommendations of the Malaysia Dietary Guidelines ensure adequate nutrient intake and strong immune system. These are also important measures to prevent NCDs, which remain as the leading causes of death and morbidity in Malaysia.
NMM 2021 is a collaborative effort of three professional bodies, the government and corporate companies to implement activities that encourage the public to make time and take charge of their health, by implementing healthy nutrition and active lifestyle.
The chosen theme for NMM 2021 "Nutrition: The Key to Combating Health Threats." highlights the importance of nutrition to prevent diseases like NCDs and COVID-19.
There is nothing more important than making time to take care of your health and that of your family members during this difficult time.
A series of activities promoting healthy eating and physical activity will be carried out:
Virtual Nutrition Fair
HE-AL Volume 3: Nutrition – The Key to Combating Health Threats
Series of educational press articles in major newspapers
Health messages promoted via NMM Facebook page, Instagram, website & selected radio stations
Dutch Lady Milk Industries Berhad
Gardenia Bakeries KL Sdn Bhd
Nestle Products Sdn Bhd
Yakult (Malaysia) Sdn Bhd
2nd Virtual Nutrition Fair
Browse individual post for detailed information on our events and publications.