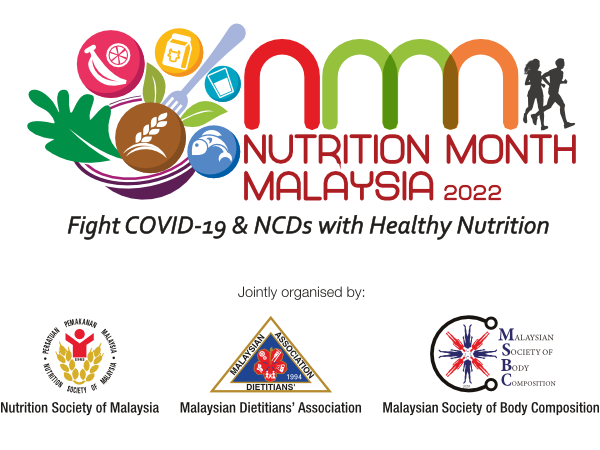 Nutrition Month Malaysia 2022
Fight COVID-19 & NCDs with Healthy Nutrition
The battle against COVID-19 is not over as there are warnings of other mutant strains of the virus that might surface to hound us, at the same time, many Malaysians still suffer from non-communicable diseases (e.g diabetes, coronary heart diseases and cancers) as well as their risk factors i.e. overweight, high blood pressure, high blood glucose that we have been fighting for many years.
It has become clear that these 2 health threats are closely linked: people with NCDs are at higher risk of getting severe infection from COVID-19. The pandemic has reinforced the importance of maintaining a healthy lifestyle and strong immune system in fighting the infection. Thus, practise healthy nutrition is the way forward to reduce risk to NCDs as well as to prevent severe COVID-19 infection.
NMM 2022 is a collaborative effort of three professional bodies, the government and corporate companies with the aim to implement activities that encourage the public to take charge of their health, by practising healthy nutrition and active lifestyle.
The chosen theme for NMM 2022 "Fight COVID-19 & NCDs with Healthy Nutrition" highlights the importance of nutrition to prevent diseases like NCDs and COVID-19.
There is nothing more important than making time to take care of your health and that of your family members during this difficult time. Incorporate healthy nutrition practices into your daily life. You and your family will be on the right path to better manage COVID-19 and prevent NCDs.
A series of activities promoting healthy eating and physical activity will be carried out:
HE-AL Volume 4: Fight COVID-19 & NCDs with Healthy Nutrition
Series of educational press articles in major newspapers
Health messages promoted via NMM Facebook page, Instagram, website & selected radio stations
Gardenia Bakeries KL Sdn Bhd 
Nestle Products Sdn Bhd 
Yakult (Malaysia) Sdn Bhd 
Unilever Malaysia Holdings Sdn Bhd 
3rd Virtual Nutrition Fair
Browse individual post for detailed information on our events and publications.